Imagination Station is a perfect place for groups to explore their creative side. Ideal for Schools, Girl Guides, Brownies, Boy Scouts, People with intellectual difficulties Groups etc.
We have designed our Creative Recycle Workshops to be great fun as well as educational and are designed to complement the recycling information children receive in school. We make recycling fun and teach children how to see their recycle bin as an endless supply of art materials. We bring recycling to life in a fun, engaging, interactive, and educational way . All our workshops in Imagination Station reinforce our commitment to inspiring children to think Imaginatively, Creatively and Responsibly.
School or Children's Group Workshop Times
Monday- Friday: 10am-11.30am
Workshop Times for people with intellectual difficulties
Wed or Thurs 11am to 4pm
Dining Options School groups only.
Children can bring a packed lunch or we can provide Choice of Nuggets, Sausages or Pizza and Chips and unlimited drinks for €6 per/child
How to book
Check Availability on our Calendar on the booking form then fill out booking form. Deposit is €50 for large group bookings and balance can be paid on date of workshop in studio or a Payment link can be sent the day before event.
Click Below to Book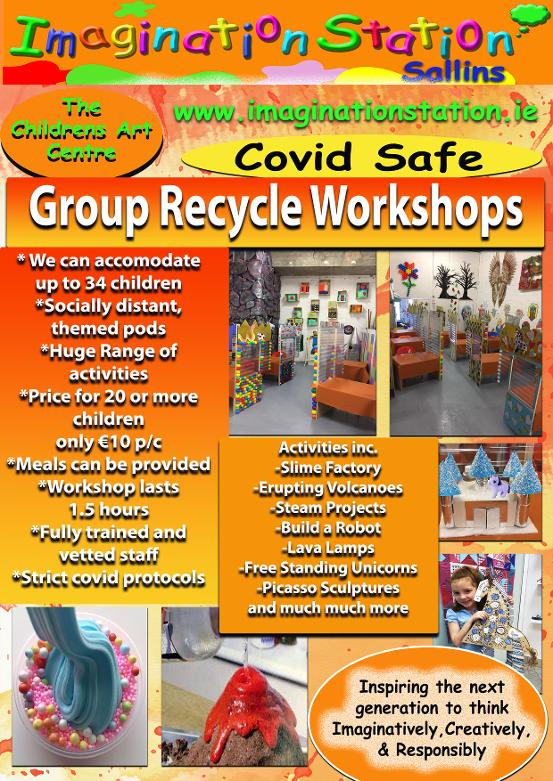 Workshops for people with intellectual difficulties
Minimum booking is 5 and maximum is 12 and costs €15 per person.
We would also ask that at least 1 carer be present for the workshop
There are over 20 activities to choose from.
Click below to book
Copyright Imagination Station